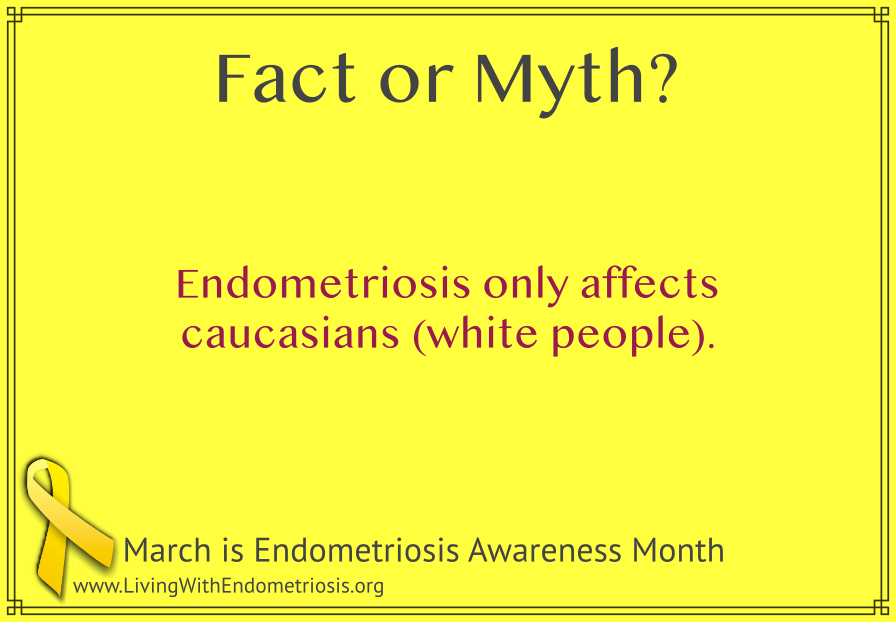 MYTH!
The Endometriosis Summit writes: "Structural racism and implicit bias permeates many institutions throughout America, devastating the lives of African Americans. Healthcare, made of the medical institutions that reign under its umbrella, is no exception. The field of gynecology has an especially egregious history of horrific crimes of racial nature. The proclaimed "father of gynecology," Dr. J. Marion Sims, performed torturous experiments on enslaved Black women without their consent, or anesthesia. The failure for doctors to acknowledge the humanity of African American women, and its appalling impact on patients, can still be seen today."
EndoBlack.org writes: "It was once thought that endometriosis existed only in white women. This was due to the lack of medical care for black women. Any women, of any race or age, can be diagnosed with endometriosis."
EndoFound.org writes: "Early theories about endometriosis and race suggested that the disease had higher incidence among white, middle-class women and was almost nonexistent among Black women. Unfortunately, the consequences of this myth continue to this day. Today, Black, Indigineous, and POC individuals face more barriers to receiving proper endo diagnosis and treatment."
Endometriosis.org writes: "Even in 2020, the early endometriosis research that characterised endometriosis patients as affluent, nulliparous women, may contribute to unconscious diagnostic biases and stereotypes. In some countries and social settings, there are known disparities in health care coverage and quality across racial and socioeconomic groups.
Future research should focus on patient experience and should recognise that patients from different racial/ethnic backgrounds may present with different symptoms, may express different treatment preferences, and may respond differently to treatments."