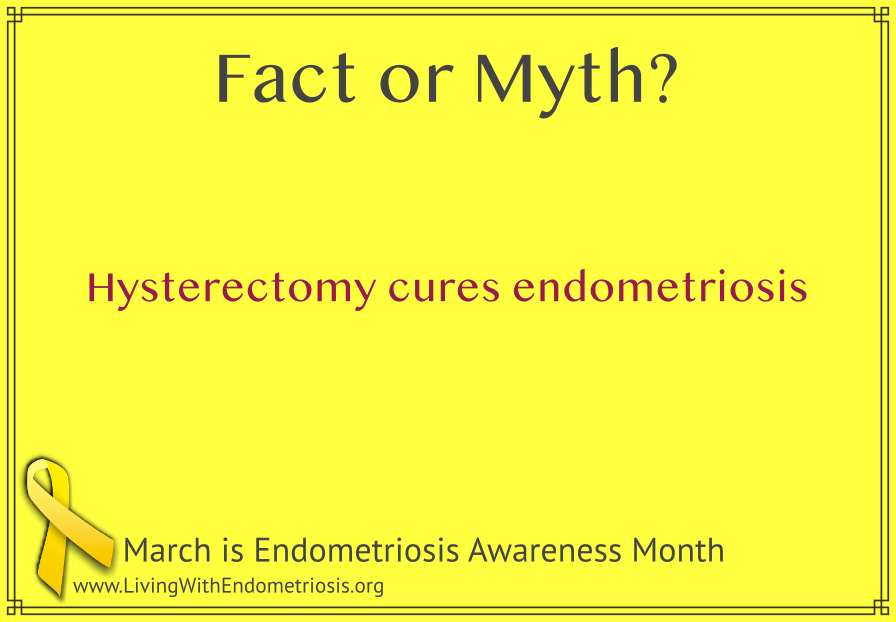 MYTH!
The Endometriosis Research Center (ERC) says:
"Hysterectomy – not a cure and inappropriate for young women!"
Endometriosis.org says:
"Hysterectomy (surgical removal of the uterus) does not guarantee relief from endometriosis-related symptoms and can neither be classified as a "treatment", nor as a "cure" for endometriosis. Furthermore, surgery is surgeon dependent, and if all the endometriosis is not removed as at the same time as the removal of your uterus and/or your ovaries — you may still have endometriosis (and associated symptoms) after this irreversible procedure."
UofM Health says:
"Taking out the ovaries (oophorectomy) and the uterus (hysterectomy) usually relieves pain. But the pain relief doesn't always last. Pain comes back in up to 15 out of 100 women who have this surgery. This means that in 85 out of 100 women who have surgery, the pain doesn't come back. If you have your ovaries removed, you can choose to take estrogen therapy. It will protect your bones and prevent menopause symptoms after your ovaries are removed. But it may also make endometriosis come back."
You can find this and other myths here.